If the doors of perception were cleansed everything would appear to man as it is, Infinite.
~ WILLIAM BLAKE
Well, 2020 is decidedly here and most definitely means business. At least for the Diamond household.
As I write this, Moxie (our 12 year old labradoodle) is stretched out beside me, looped out on pain meds. A routine teeth cleaning yesterday revealed a decaying root, and after some complications in surgery, the vet was finally successful in removing the tooth. Because of the complication, we're under strict orders to keep her calm (no off-leash romping) and to give her only soft food for three weeks. She's getting lots of love and tender affection while she recovers — if it's at all possible to give her more than she already gets on the daily! And we're so very, very grateful — for our vet, for Moxie's resilient spirit, and for peanut butter, which she has decided is a fine substitute for her usual treats.
This was but one of several unexpected plot twists brought to us by the first month of 2020. Along with having to replace David's car, the upstairs plumbing needing repair, and a number of other significant items calling for our attention.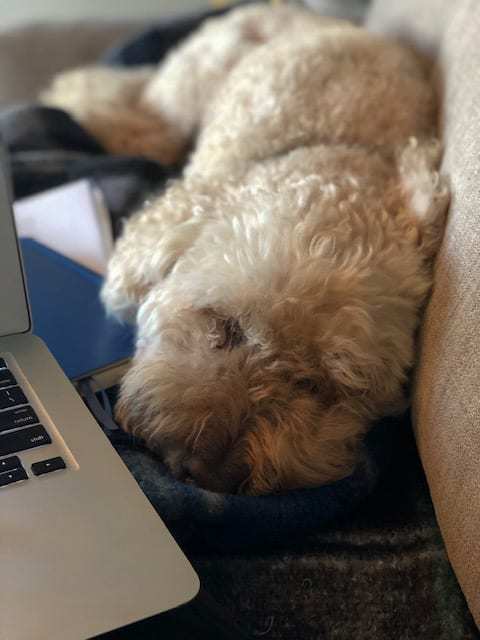 It's a rich time. And while feeling stretched to our edges in moments, David and I are making our way through, fully aware of the growth this phase offers us as individuals and as a couple.
For one, we're being invited to explore the energy of support within our relationship. As young people, we both developed patterns of self-reliance, which is definitely handy and helpful along the journey of life. However, what we're discovering now is that those old self-reliant patterns, when not grounded and intentional, can actually block the free flow of support to and from one another, and with the rest of the world.
We're still deep in this process, and of course this comes in layers, but already I am experiencing more light, more space within me and in our relationship. It's a whole new experience of shared support that I hadn't before been aware was available to me, to us. I'm excited for the growth to continue, having just a taste of what this expansion offers.
What I know for sure is that — whether you're single and want to be in relationship, or you're in relationship and want to deepen the connection — life will serve up opportunities to confront the patterns and beliefs that limit your experience of love. Life is generous like that!
And what I keep learning over and over — and I don't imagine this will ever end — is that it is entirely possible to transform your experience of love (to transform your relationship to love) when you approach these growth opportunities with a healthy dose of courage, amusement and the willingness to challenge long-held patterns and beliefs about love.
If you're up for exploring your own relationship to love and expanding your capacity to create love from a foundation of inner stability and wholeness, then I'd love to have you join me for my online course Whole Hearts in Love that begins On March 3. Sharing this course is one of my greatest joys, and I'd love for you to join in if you feel called.
I'd also love to hear how your 2020 is shaping up so far. Please do let me know in the comments below!
With love, 
Elizabeth
PS – a few things I'm enjoying…