You're ready to dive deep.
You've got an intention ripe for activation.
Come enjoy a soul-nourishing and transformational retreat to open to your evolutionary edge and truest expression. I will guide you on a 3-day private immersion experience, tailored just for you, offering…
embodied transformative work anchored in breath, movement and other expressive arts
guided practices for connecting with nature and its powerful grounded wisdom
a clear, safe container for opening to what you most want to create
Step away from your day-to-day life to focus on you. Come home to yourself. Be nurtured by the peace of your being and the wisdom of your soul. Allow yourself to be fully held, seen and guided through a process of expansion.
I design this custom one-to-one retreat for you, to help you cultivate clarity and alignment around an area of your life that is ripe for transformation — whether it be a question, a transition, or an opportunity.
You'll access the wisdom of your soul, identify the growth and wisdom you are being called to bring online now, and have a clear vision and action plan to guide you on your next evolutionary steps.
Your retreat will take place in my home, nestled in nature, just 20 minutes north of San Francisco. We'll work together from 10am to 4 or 5pm each day.
You'll stay in our luxurious guest suite — with organic bedding, private bath and terrace overlooking Mount Tam.
Lunches are included in your retreat. They will be delicious and nurturing, prepared with love, and based on your dietary preferences.
You'll have time to yourself at the beginning and end of each day, including breakfast and dinner. You'll be free to rest, journal, soak in the hot tub, hike in the surrounding hills, explore the area. For breakfast and dinner, you'll be free to explore local restaurants, or prepare your own meals in our kitchen.
Your retreat includes…
3 day / 2 night stay (e.g. Wednesday morning through Friday afternoon)
Private bedroom with private bathroom, a queen size bed with deluxe organic bedding, decks overlooking nature, hot tub
Delicious organic lunches
All activities and materials
A peaceful retreat space nestled in the hills of Marin County, California
During your retreat you will…
Take time out of your busy life to reconnect with yourself and the powerful healing medicine of nature.
Clear, ground and attune to your intuition with powerful energy practices. Learn to integrate these practices into your daily life so that you can walk with integrity and power, no matter what comes your way.
Discern and invite in new energies and support for your next evolutionary step, while releasing outdated limiting stories.
Orient yourself to the direction your soul is calling you. Align with this next evolutionary phase. Map a course of action and begin to take steps to anchor your new path.
Enjoy a refreshing balance in your experience — between facilitated time and time alone to rest, journal, hot tub, etc.
Is this for you?
This private retreat is for you if you are highly motivated and ready to dive into the heart of your soul's calling. This is especially helpful if you are experiencing a significant transition or faced with making important life decisions.
How it works
Once I've reviewed your application, I'll be in touch with an invitation to register and an invoice. Your retreat payment ($2800) is due at the time of booking, and is non-refundable.
The moment you register for your retreat, I create a powerful energetic field for you and your intentions. You'll find that once you say "yes" to your retreat, it has already begun, and you'll likely experience an activation in your life, even before you arrive on site.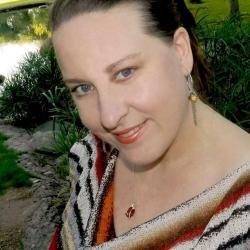 Jen Padgett
Technology Advisor for non-profit Community Solutions
My private immersion retreat with Elizabeth was spiritual, productive, magical.
The last two years have been transitional for me. I was working in a CEO position and dealing with a chronic pain disorder. I took a sabbatical and started to transform the way I was managing my life. Past trauma started to surface during this period, and I went inward. I needed a path forward but wasn't quite sure how to get there. That's where I was before working with Elizabeth.
I was able to identify, connect and directly work with the persona that is holding me back the most, my deepest inner critic "Mother Load." I felt finally able to break through, move through and find ways to work with this part of me like I never have before. On top of that, I was able to really identify and figure out what is calling to me. Elizabeth coached me through what that actually means for my life and how to move forward with this new information. It felt so awesome to leave with an action plan!
I love that Elizabeth was doing her own work on things while I was. It was a great example for me that the work continues, there is always an iteration, and I don't have to have everything figured out to be happy about where I'm at.
Her love, caring and kindness was especially needed as I transitioned into finding ways to love and appreciate myself. It never occurred to me to appreciate myself for all I've done thus far!
The path Elizabeth set out for me is flexible and I think can accommodate many. She has a way of intuitively listening and allowing that to inform what should happen next. The time together was flexible – we did what felt right to move forward to the next thing and get to my end goal. Mixed in was plenty of relax time, great and healthy food, and even a massage (greatly appreciated:-). I felt like my time there was a reset and I left feeling energized and Spirit Full.