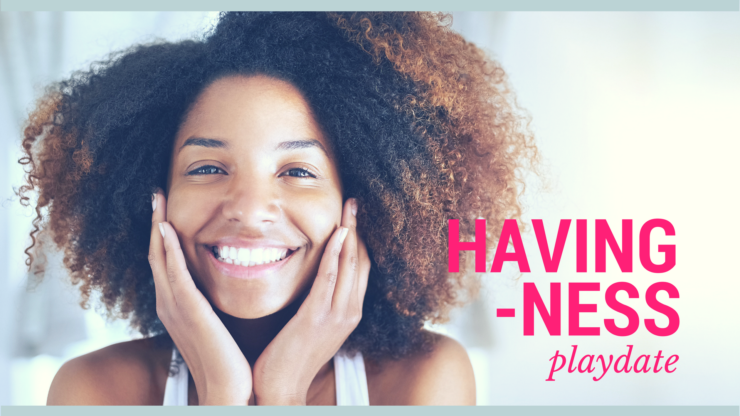 Havingness Playdate – September 16, 2017
Embody your true, natural abundance.
You are invited to one day of play to expand your Havingness.
On September 16, from 9:45am – 4pm, in San Rafael, California, I will guide an exploration of havingness for adventurous souls who would like to enjoy more in their lives. More love, more abundance, more ease, more play. Won't you join us?
What is havingness?
You've heard stories of people who win millions in the lottery, only to let the money slip through their fingers almost as soon as they receive it. One way to look at it is that they could receive the flow of abundance, but they couldn't have it.
Together we'll look at the ways our own havingness level impacts all areas of life. You'll discover ways to release your blocks to havingness, and to expand your capacity to have the abundance–of love, resources, vitality, etc.–the universe is always offering you.
Our playtime together will include a combination of body-centered activities, expressive arts and spirit-centered meditations.
You'll walk away with an embodied understanding of the difference between havingness and receiving, as well as simple tools you can use on your own to release blocks and expand your havingness in all realms of life.
Details:
Saturday, September 16, 2017, from 9:45am – 4pm
San Rafael, California
Tea and snacks will be provided.
We will take a midday lunch break. Either bring your lunch, or grab your lunch locally. There are several lunch spots (including Whole Foods and Chipotle) within 2 miles of our location.
$45-$75 donation, sliding scale
Seven spots open… Please email Elizabeth at elizabeth@emhunter.us for availability.